Overview
Developed to help combat the global opioid health epidemic
The Mass Spectra of Designer Drugs 2019 is the largest collection of chemical signatures of NPS and drugs of abuse in the world. The 2019 edition features the addition of over 1,500 new mass spectra and over 1,250 new, unique compounds in over 30 different classification groups such as fentanyls, synthetic cannabinoids, and opiates.
With an average quality index per spectrum of 950.0 and 18,017 Kovats retention indices, this spectral library provides comprehensive data on the most up-to-date list of novel psychoactive substances. Updated annually, the 2019 edition covers the range of known novel psychoactive substances through December 31, 2018.
Library Specifications
Mass Spectra: 28,032
Chemical Structures: 28,032
Unique Compounds: 21,649
Opiates: 353
Fentanyls: 866
Cannabimimetics: 996
Cannabinoids: 112
Measured Kovats Indices: 18,017
Average Quality Index/Spectrum (QI): 950.0
Compatibility
The 2019 edition is compatible with leading manufacturer formats such as:
Agilent ChemStation, MassHunter, OpenLab
Bruker MS Workstation
Chromatec Analytic
JEOL msFineAnalysis
LECO ChromaTOF
NIST MS Search
PerkinElmer TurboMass
Scion MS Workstation
Shimadzu GCMSsolution
Thermo Chromeleon, TraceFinder, Xcalibur
Waters MassLynx
Other versions available:
ACD/Labs ACD/Spectrus Processor
KnowItAll Software
Wiley Spectra Lab
Upgrades are available for purchasers of prior editions. Contact your account manager for upgrade information.
Compound Coverage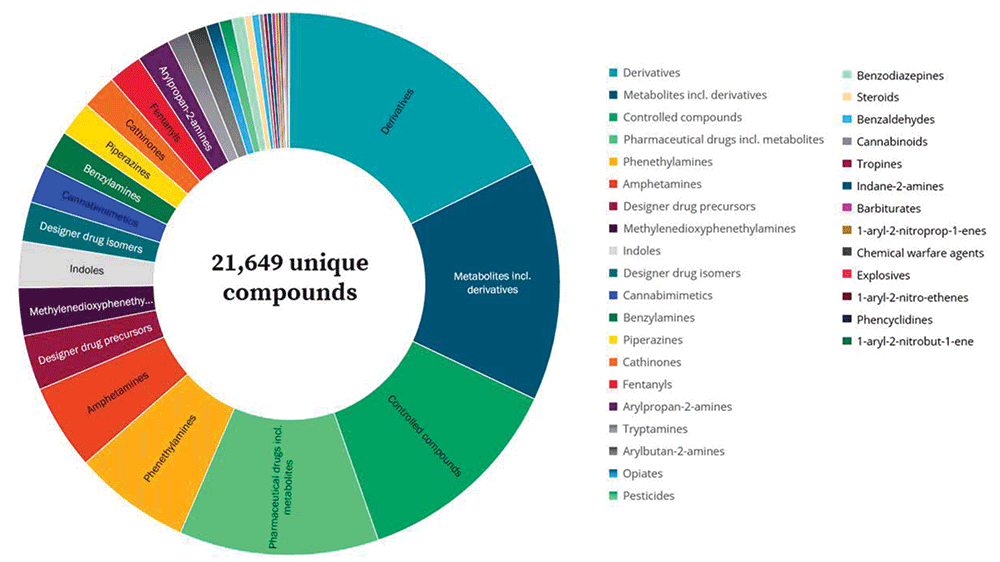 Compound coverage can be searched at www.compoundsearch.com.