Expanded coverage in the latest release for more comprehensive GC-MS analyses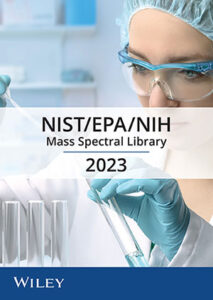 July 11, 2023 — Wiley, a knowledge company and global leader in research, publishing and knowledge solutions, today announced the release of NIST / EPA / NIH Mass Spectral Library 2023. Developed by the experienced mass spectrometry team at the National Institute of Standards and Technology (NIST), this database represents the culmination of more than four decades of comprehensive evaluation and expansion, making it an essential resource for those analyzing mass spectra.
Notable updates in the 2023 release of this trusted resource include the addition of more than 40,000 unique compounds with more than 43,000 spectra to the Electron Ionization (EI) library, in addition to AI-RI values for all EI data; 60% more compounds added to the MS/MS library than the 2020 release, and over 40,000 compounds added to the GC Retention Index (RI) library.
"Take the guesswork out of compatibility — Wiley supports more instrument formats than any other NIST 2023 distribution," said Graeme Whitley, Director, New Business Development at Wiley, "And with Wiley you have the added option to access even more spectra to optimize your analytical workflow."
Available from Wiley in the most common instrumentation manufacturer formats, this spectral library is a necessity for any laboratory engaged in GC-MS analysis. The Wiley distribution also offers options to access even more data with its Wiley Registry and KnowItAll Mass Spectral Library bundles to ensure the most comprehensive coverage.
Learn more at Wiley Science Solutions:
For more information about the NIST / EPA / NIH Mass Spectral Library 2023, please visit https://sciencesolutions.wiley.com/solutions/technique/gc-ms/nist-epa-nih-mass-spectral-library.
About Wiley
Wiley is a knowledge company and a global leader in research, publishing, and knowledge solutions. Dedicated to the creation and application of knowledge, Wiley serves the world's researchers, learners, innovators, and leaders, helping them achieve their goals and solve the world's most important challenges. For more than two centuries, Wiley has been delivering on its timeless mission to unlock human potential. Visit us at Wiley.com. Follow us on Facebook, Twitter, LinkedIn and Instagram.