Overview
The broadest combined library available with over 2 million EI and LC-MSn mass spectra

The combined Wiley Registry 12th Edition/NIST 2020 Mass Spectral Library is the most comprehensive mass spectral library available, making it an essential tool for general unknown compound identification. Included in the combination package are:
Over 1 million EI mass spectra
Over 1 million searchable chemical structures
Over 840,000 unique compounds
Experience improved spectral search performance with the Wiley Registry 12th Edition/NIST 2020 Library. Replicate spectra and over 3 million chemical names and synonyms provide a higher rate of correct identification and ensure that this library can aid in classical EI, exact mass, and other methods of identification.
Library Specifications
 

 GC-MS Data

LC-MS Data

Library

Wiley Registry 12th Edition

NIST/EPA/NIH 2020

Wiley Registry 12th / NIST 2020 GC-MS Total*

NIST MS/MS 2020

Spectra

817,000

350,000

1,089,000

1,320,000

Chemical Structures

785,000

350,000

1,056,000

30,000

Unique Compounds

668,000

306,000

843,000

30,000

Ions

—

—

—

185,000
*Total GC-MS counts for WR12/N20 found from total WR12 plus N20 minus overlap
Compatibility
See supported instrument file formats.
View Details
Compound Coverage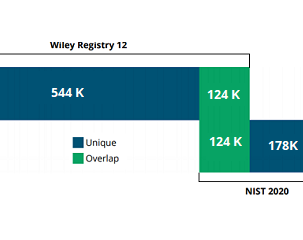 Compound coverage can be searched at www.compoundsearch.com.