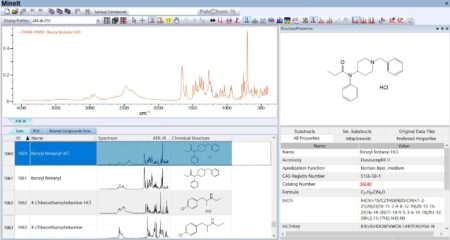 June 27, 2023 — Wiley, a knowledge company and global leader in research, publishing and knowledge solutions, today announced the addition of 374 spectra of drugs of abuse to the KnowItAll® IR & Raman collections. Notable additions include new psychoactive substances (NPS), such as synthetic cannabinoids, cannabinoid derivatives, nitazenes, benzodiazepines, and various fentanyl analogs.
"Adding these chemical signatures to the Sadtler ™ Controlled and Prescription Drugs databases is an important way for us to help forensics labs to keep up with emerging drugs of abuse," said Graeme Whitley, Director, New Business Development at Wiley. "Forensic labs can update their database collections automatically using KnowItAll Analytical Edition software."
Below is a Summary of Recent Updates
| | |
| --- | --- |
| Collection/Database | Updates Made |
| KnowItAll® IR Spectral Library Collection | 226 new spectral records added to the ATR-IR – Sadtler™ Controlled & Prescription Drugs 4 database |
| KnowItAll® Raman Spectral Library Collection | 148 new spectral records to the Raman – Sadtler™ Controlled & Prescription Drugs 3 database |
Sadtler™ standard spectra databases are available exclusively through KnowItAll subscriptions.
Consistently evolving to increase coverage for meeting today's research demands, Wiley's spectral libraries cover a wide range of applications including polymer/materials, environmental, forensics/toxicology, pharmaceutical, biotech, automotive/aerospace, food/cosmetics, and more. These databases are critical to analytical laboratory workflows for the interpretation, identification, verification, and classification of spectra.
Learn more about all of our spectral data collections at Wiley Science Solutions: https://sciencesolutions.wiley.com/spectral-databases/
Current KnowItAll Database Subscribers: How to Update to the Latest Version
If your KnowItAll Spectral Library subscription license is active, you can always access the most recent data available in your licensed subscription. Ensure that you update your databases manually if you are not set up to automatically do so to take full advantage of your subscription. Learn how to update databases here.
Wiley is a knowledge company and a global leader in research, publishing, and knowledge solutions. Dedicated to the creation and application of knowledge, Wiley serves the world's researchers, learners, innovators, and leaders, helping them achieve their goals and solve the world's most important challenges. For more than two centuries, Wiley has been delivering on its timeless mission to unlock human potential. Visit us at Wiley.com. Follow us on Facebook, Twitter, LinkedIn and Instagram.