Wiley Adds Databases to Its KnowItAll Spectral Library Collections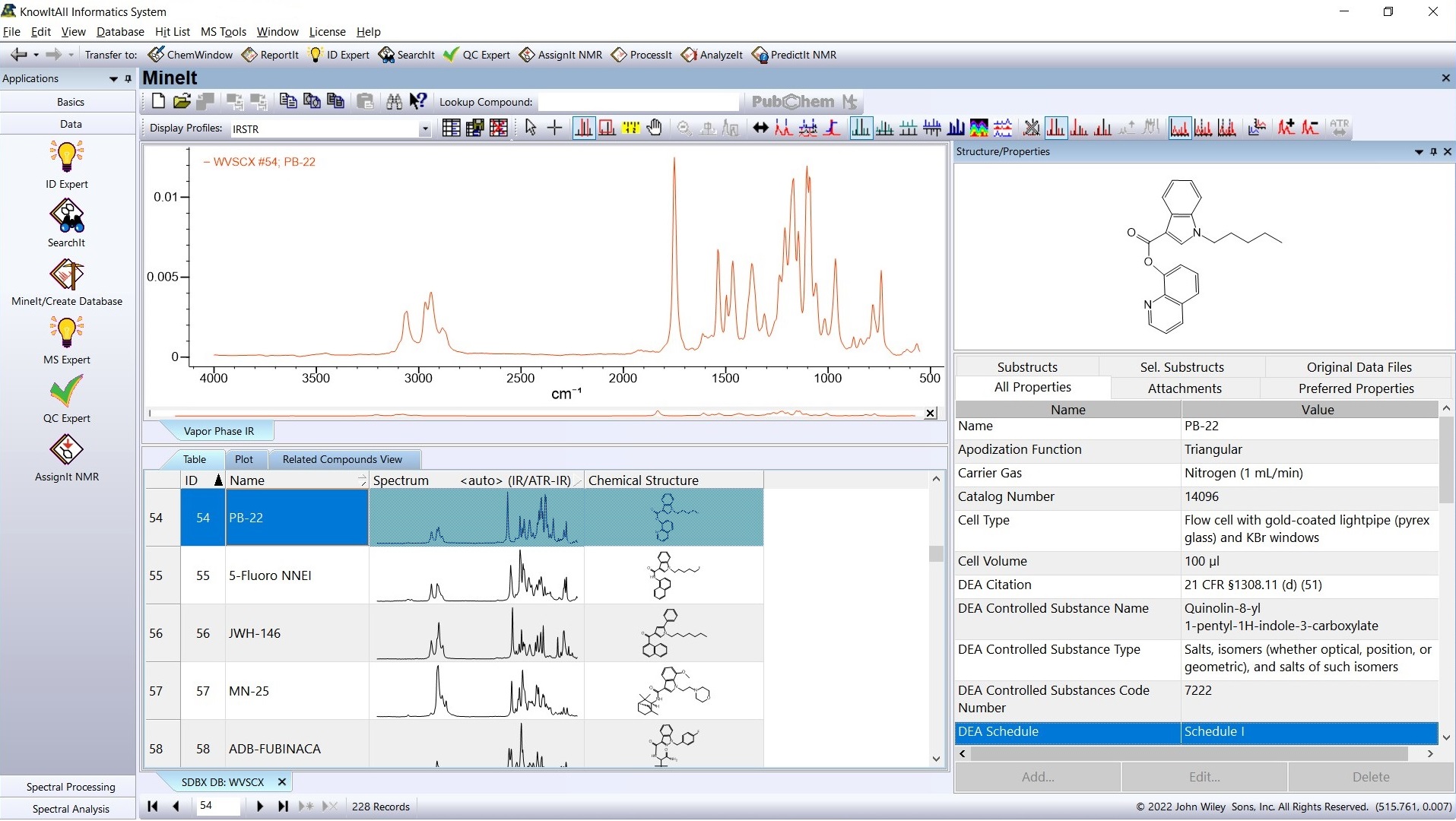 May 25, 2022 – Hoboken, NJ — Wiley, a global leader in research and education, today announced the addition of several databases to its KnowItAll Spectral Library collections.
The following databases have been added to Wiley's comprehensive KnowItAll Spectral Library subscriptions:
IR – Vapor Phase FT-IR Library of Synthetic Cannabinoids – Wiley – This new infrared spectral database of 225 spectra increases our forensic coverage to address the ever-increasing demands as novel psychoactive substances (NPS) are synthesized.  
1H NMR – Organic Compounds (Comprehensive) Part 2 – Wiley – This library of 37,000 spectra further expands the KnowItAll NMR Spectral Library organic compound coverage for analysis and prediction.  
IR – Canadian Forensics – This database produced by the Department of National Health and Welfare of the Government of Canada, contains over 3,400 spectra including legal and illegal drugs, drug precursors, and the reagents used to prepare them, as well as other substances encountered in forensic analysis. It is also available as a stand-alone database. 
"Public health is a priority for Wiley, and the addition of the new Cannabinoids and forensics libraries helps forensic professionals meet the challenges faced by today's law enforcement community. Equally important is our commitment to analytical researchers and practitioners – providing the research community with an expansion of the largest full-scan proton NMR libraries, coupled with some of the largest Infrared, Raman, and GCMS libraries commercially available," said Graeme Whitley, Product Director of Wiley Science Solutions."
Wiley's KnowItAll Spectral Library collections provide access to over 2 million high-quality spectra including IR, MS, NMR, Raman, and UV-Vis. These databases are critical to analytical laboratory workflows for the interpretation, identification, verification, and classification of spectra. The collections cover a wide range of applications including polymer/materials, environmental, forensics/toxicology, pharmaceutical, defense/security, biotech, automotive/aerospace, food/cosmetics, and more.
Learn more about our spectral data collections at Wiley Science Solutions: https://sciencesolutions.wiley.com/spectral-databases/
About Wiley
Wiley is a global leader in research and education, unlocking human potential by enabling discovery, powering education, and shaping workforces. For over 200 years, Wiley has fueled the world's knowledge ecosystem. Today, our high-impact content, platforms, and services help researchers, learners, institutions, and corporations achieve their goals in an ever-changing world. Visit us at Wiley.com, like us on Facebook and follow us on Twitter and LinkedIn.
Current KnowItAll Database Subscribers – How to Update to the Latest Version
If your KnowItAll Spectral Library subscription license is active, you can always access the most recent data available in your licensed subscription.  Ensure that you update your databases manually if you are not set up to automatically do so to take full advantage of your subscription. Learn More.