KnowItAll Solutions for NMR
From Processing to Analysis, Predictions, & Beyond
Powerful software. Quality data.
Results you can rely on.
Accelerate your analyses & streamline your workflow!
KnowItAll offers solutions to identify, analyze, and manage your NMR data. Combined with Wiley's high-quality, trusted spectral reference databases, it provides one of the most advanced technologies available for fast, reliable spectral analysis. KnowItAll's tool and database coverage includes 1H, 13C, 11B, 15N, 17O, 31P, 19F and 29Si. KnowItAll leverages the large database collection* within NMR spectral predictions using PredictIt NMR tool.
With the NEW KnowItAll 2024 Analytical Edition, Wiley continues to expand KnowItAll's NMR capabilities, with revamped tools for processing, multiplet analysis, and peak assignment.
*Subscription required to KnowItAll Spectral Libraries.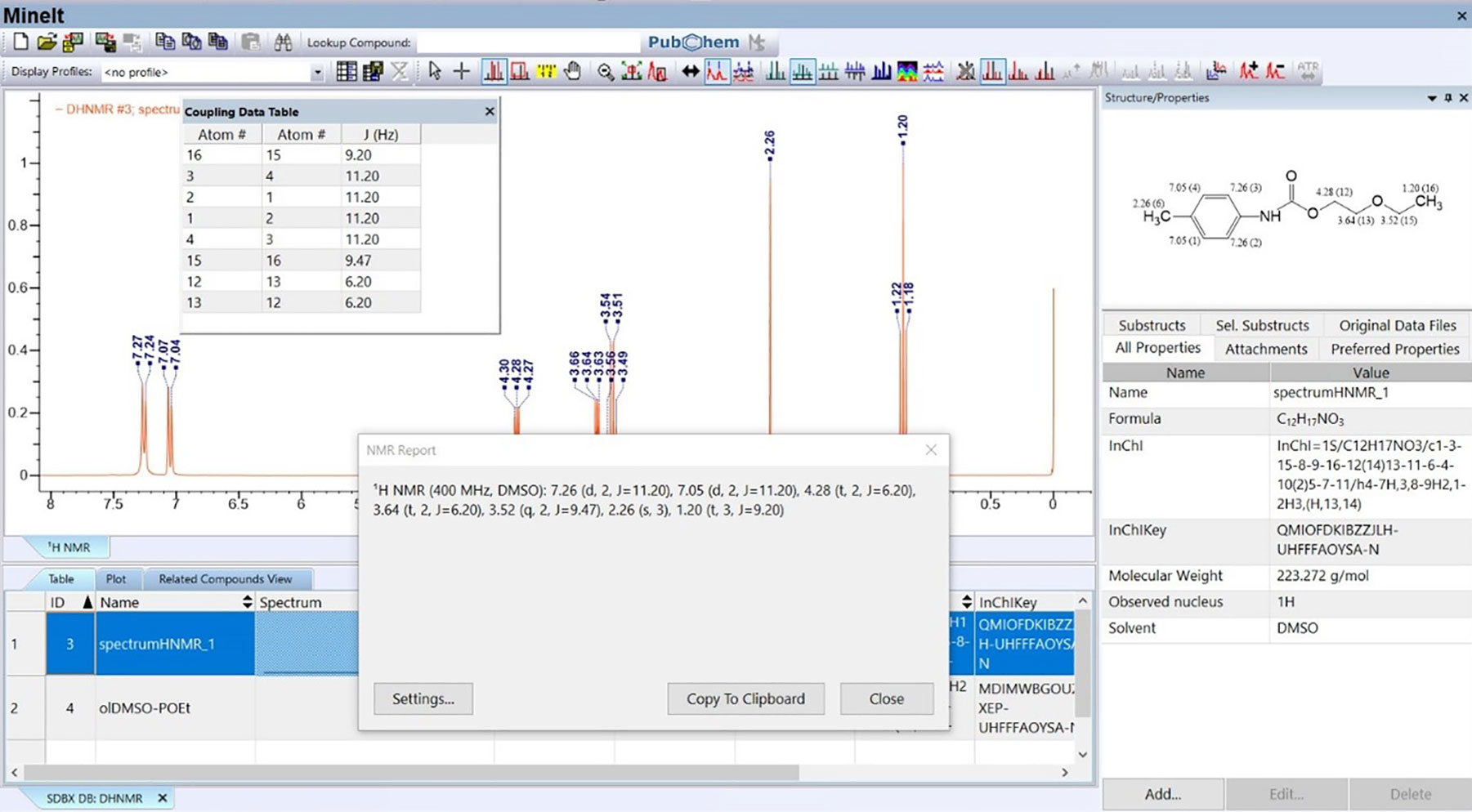 NMR Spectrum Processing
Import and process spectra from various instruments and formats
ProcessIt is easy to use while offering a comprehensive set of processing features to correct experimental artifacts and improve the appearance of your spectra. Users have access to a full package of processing tools including pre-processing and post-transformation tools, as well as automatic and manual processing methods. KnowItAll's ProcessIt includes macro capability for repetitive workflows. Updated in KnowItAll 2024: Improved integration methods, phasing method, and solvent referencing dialog.
Key Features
Import raw FID spectra or 1D processed files
Pre-processing features: zero filling, interactive window functions, and Fourier transform
Phase corrections (automatic and manual)
Baseline corrections (automatic and manual), includes polynomial, spline and linear algorithms
Peak picking (automatic and manual)
Integration (automatic and manual)
Addition and subtraction of spectra
Overlay multiple spectra for easy comparison
Macro capability for quick and efficient processing
Export in JCAMP format
Spectrum handling tools, such as horizontal zoom, box zoom, hand cursor, and scaling
Integrated with MineIt for archiving of processed spectra, ReportIt to create reports containing spectra, peak, and integral tables, and SearchIt for spectral searches
NMR Tools for Multiplet Analysis and Structure Assignment
KnowItAll's multiplet analysis and peak assignment dialogs have been revamped in KnowItAll 2024 using NMR Tools in MineIt.
Users with 1H-NMR or 13C-NMR spectra can analyze their multiplets using the Define Multiplets tool, and then assign multiplets to the chemical structure using the Assign Structure tool.
Use the Define Multiplets dialog to group peaks into multiplets, and resultingly obtain an evaluation of splitting patterns, coupling constants and chemical shifts.
The Assign Structure dialog supports structural symmetry for faster assignment, and users can assign cross-coupling to heteroatoms as needed (e.g., 1H-31P and 13C-19F).
Database building / management
Build Single or Multi-Technique Databases from Various Instrument Types and Vendors
Because Wiley Science Solution's primary business is spectral databases, KnowItAll is built through years of experience in doing just that—building databases.
Researchers can build searchable databases that include one or more analytical techniques (IR, MS, Near IR, NMR, Raman, UV-Vis), chemical structures, and other meta data. So even if a laboratory's instruments come from multiple manufacturers, KnowItAll can archive the data.
NMR database building with multiplet report generation
KnowItAll's MineIt user databases are able to store processed spectra for direct sample comparison and searching. Each record can have an attached chemical structure and user property values to capture the full scope of the NMR sample for long term storage. For each 1H and 13C records that are databased in MineIt, KnowItAll's NMR Tools will automatically generate the NMR report.
Spectral Searching
Sophisticated Search for Confident Identification & Classification
Wiley offers sophisticated tools to search and compare unknown NMR spectra, including 1H, 13C and X-NMR (15N, 17O, 19F, 29Si, 31P and 11B) with the vast KnowItAll NMR Spectral Library Collection or user-generated databases. With fast search speeds, powerful algorithms, and advanced technologies, Wiley aims to deliver results you can rely on.
Users can search full spectra or region(s) of the spectrum, and they can overlay and subtract hitlists. With access to Wiley's vast database collections, users will maximize their ability to identify unknown impurities in their samples.
NMR Prediction
Perform NMR Chemical Shift Prediction
Make NMR spectral predictions of structures for 1H, 13C and X-NMR (15N, 17O, 19F, 29Si, 31P and 11B) using the power of Wiley's KnowItAll NMR Spectral Library collection.* In addition to the predicted shifts, users are provided with the specific database records and values that contributed to the overall predicted shift.
The tool searches the database(s) for specific chemical environments, which are described by a modified HOSE (Hierarchically Ordered Spherical description of Environment) code, a topology code used to describe the chemical surroundings of an atom in a molecular structure.
The original structure and results are displayed in PredictIt NMR's main window.
Each atom's average shift (and standard deviation) is displayed at the top level of the tree control.
Predictions can be calculated using all solvents or restricted to records with the selected NMR solvent.
Integrated Tools for Structure Drawing, Reporting, & More
ChemWindow 2D Structure Drawing Program & Communications Tools
Because structures are critical to your work, we included all the tools you need to streamline your workflow and save time.
ChemWindow is the software chemists worldwide choose for chemical structure drawing. It provides an advanced set of drawing tools that's easy to use— just click and drag to draw any chemical structure. Access the most comprehensive set of tools to draw rings, bonds, atoms, electrons, charges, chains, arrows, and more.
And with KnowItAll's ReportIt tool, create standard reports, papers, and presentations that include annotations, tables of data, spectra, 2D and 3D structures, and more.
KnowItAll NMR Spectral Library collection
Comprehensive, Quality Data for Results You Can Rely On
Spectral analysis and prediction software is not complete without high-quality databases of reference spectra. And with KnowItAll, Wiley offers the best of both!
The KnowItAll NMR Spectral Library collection* is a trusted data source that provides a vast collection of high-quality NMR spectra with access to 1H, 13C and X-NMR (15N, 17O, 19F, 29Si, 31P and 11B) spectra. Learn more.
Explore additional spectral library collections.
SUBSCRIPTION OPTIONS
KnowItAll and ChemWindow are trademarks of John Wiley & Sons, Inc. in certain jurisdictions.
*Subscription required to KnowItAll Spectral Libraries.